As always thanks to all who have contacted us and sent us comments and articles for inclusion. Please keep in touch and send us things.
We would like to think there is a lot of interest in the articles we have chosen and that it is ideal for you to dip in and out of and not read them all at once !!!
Pauline & Bob - co-editors..

Updated 1st November 2023
_______________________________________________________
Dear Friends
Once a lady knocked on my Rectory door, complaining that the flowers she had put on her family memorial stone had been vandalised more than once. We went to the churchyard. Around the memorial stone, we saw green flower stocks strewn about, with only a few little pieces of red petals remaining in place. The vandals, I told the lady, were squirrels. I had seen them eating carnation petals. In the end, we had to put up a notice, warning people that red carnations were the local squirrels' favourite snack, so that these were not likely to remain long in their flower vases. St Michael's churchyard had rows of memorial stones adorned with many varieties of beautiful flowers, fresh ones and silk ones alike.
The churchyard never lacked colour, even in the depth of winter there were always some evergreen and some silk flowers. This is no surprise. People use flowers and colour to express their love and to memorialise their loved ones who can be seen no longer. I remember especially that was an elderly lady who often laid flowers at the unmarked children's burial corner. She commemorated her little sister, a still-born infant who lay there somewhere. There was, I found, not even a record of her burial. Her sister, long after their mother's death, continued the tradition of remembering the sibling she had never seen. Sometimes, she would leave a tiny, fluffy teddy bear. Maybe, in her mind, her little sister, somehow, would cuddle the toy that she never had here.
Can you imagine, then, that some people would put a black spider, complete with artificial cobweb, on their loved one's grave, and possibly even adorn it with the skeleton of the grim reaper? The scene would make many of us feel uneasy, to say the least. We all wish our loved ones will find their way to the place which we call Heaven, not somewhere accompanied by something like some people's Halloween decorations. Images of skeletons, spiders and so forth represent the opposite of good, joy and happiness. People may suppose those Halloween knick-knacks are just a little bit of fun, hoping perhaps to make merry at the beginning of cold winter season, when no one thinks too deeply about meanings. Who cares, then, whether Hell exists or not? In fact, we should care and we must care. Hell is present on earth. Look wherever you care to look. Look at the Ukraine. Look at Syria. Look at the people in Maine. Look, above all, at the tragedy in the Middle East. Who can say that there is no evil on earth?
November is a month of remembrance. We celebrate all the saints who have won their battle against evil, are now rest in Heaven. We remember our loved ones departed, and pray that they have joined the saints at their heavenly banquet. We remember those who fought for the King and country, who gave their life for the peace we enjoy here and now. We remember them, and also we remember that we, like those who have gone before us, have our own battle to fight. Evil is never far away from us. Let the light of Christ shine into our world, and dispel the darkness of evil. May we all follow in the footsteps of saints' journey Heaven-ward.
______________________________________________________________
Random Ponderings
It's Remembrance time, as we call to mind those who fought and fell defending our nation in times of war, and give thanks for their courage and sacrifice. Those with long enough memories can tell us what it was like to live in a land under the shadow of a major war – the fear, the privations, the destruction and the loss of life, the dreadful uncertainty about when, and how, it would all end. This year, thanks to ongoing events in Eastern Europe and, most recently, the Middle East, we don't need to use our imaginations much to think what it would be like. We have it on our TV screens day by day, and our hearts go out to the ordinary people now caught up in it – hurt, bereaved, fleeing in terror as their familiar world crashes round their ears.
Jesus knew what it was like to live in an occupied country, and in early childhood, he had himself been a refugee, fleeing to Egypt to escape the threats of Herod. He lived under the oppressive Roman regime, which in the end had him executed – ironically, to keep the peace with the local religious leaders, who wanted him dead. Yet the Gospels show him at peace within himself, content with his lot in life, and reaching out in love to all around him – Jews, Samaritans, Greeks and even Romans – with wisdom, kindness, healing, blessing and forgiveness. How could he do this? How, in such a violent, unjust and uncertain world, could Jesus truly live out his prophesied calling (Isaiah 9:6) of 'the Prince of Peace'?
He knew who he was. At his baptism, the voice from heaven declared 'This is my Son, the Beloved, in whom I am well pleased.'
He knew who his Father was – God himself. In spite of how things appeared, he was in charge, and he was working out his purposes. And Jesus trusted and obeyed him absolutely.
He knew his calling. His very name, Jesus, given before he was born (Matthew 1:21), means 'Saviour'. He was not dismayed by the tragic mess he found the place in as he walked among his people. It was the very reason he had come, because he was the one who was going to put things right.
We may say 'but we're not Jesus'. But when we put our faith in the Father through him, we ourselves become the children of the living God (John 1:12). We too can trust and obey him by his grace, and know the inner peace that Jesus knew, because he is still working out his purposes in the world, in spite of all that wicked and imperfect humanity can do.
One day, through Jesus, another part of Isaiah's prophecy (Isaiah 9:5) will come true at last for all the world: For all the boots of the tramping warriors, and all the garments rolled in blood, shall be burned as fuel for the fire.
Until then, we pray for peace, for help for the suffering, and for wisdom for the leaders of the nations. We help where we can, and we keep trusting the Prince of Peace, who in his power and his love will one day end all wars for ever.
______________________________________________________________
C of E's response to the Net Zero statement
The Bishop of Norwich, who is the Church of England's Lead Bishop on the Environment, has responded to the announcement by the Prime Minister on Net Zero policies.
"The Prime Minister's Net Zero speech calls for a welcome change in the debate from loud polarised voices, but he set out delays in policy before hearing the properly informed debate he called for.
"Whilst it is right that he has kept our international commitments, postponing changes leave necessary adaptations to the last minute, rather like last-minute exam cramming—a risky gamble. Ignoring the ongoing carbon emissions exacerbates climate change's impact.
"The Prime Minister said we can meet our climate targets without taking the carbon reduction actions the Government had previously announced. We can't. Decarbonisation must permeate every aspect of our lives.
"Failing to acknowledge the urgency undermines progress, impacting business, investment, green job creation, and global influence.
"We are already seeing the devastating effects of climate change, which is hitting the poorest people of the world hardest. We must act now to ensure a just transition; it is our moral duty to care for God's creation.
"Christians are called to be a people of hope; to live in harmony with our world; to treasure God's creation and to love our global neighbour.
______________________________________________________________
Parishes are still "at our very heart"
"Parishes are at the very heart of the Church of England's mission."
This was the C of E's response to a recent article in the Sunday Telegraph. The short comment was provided as a response to an article that had appeared in the newspaper on 'parish closures.'
William Nye, the Church of England's Secretary General, said: "Local parish churches are at the very heart of the Church of England's mission and over the next nine years we are investing £3.6 billion of Church Commissioners funds in front-line ministry up and down the land, focussing particularly on those communities most in need.
"It is early days, but we are seeing our efforts bear fruit – and local projects funded by the national church have already brought 27,000 new disciples into our congregations.
"Of course, churches do sometimes close – but the truth is that the number of closures is the lowest it has been for 50 years, and we are starting new worshipping communities all the time. In fact, earlier this summer General Synod formally committed the Church to revitalising our parishes."
In fact, the number of consecrated churches closed has actually decreased in each of the last five decades. The figures provided to the Sunday Telegraph, who omitted them, were as follows:
1969-1979: 760

1980-1989: 485
1990-1999: 274
2000-2009: 243
2010-2019: 209
_____________________________________________________
NOVEMBER DIARY PAGE
Saturday 4th
9.30am onwards Churchyard tidy
Sunday 5th
9.00am Holy Communion
10.00am Parish Communion
3.00pm Commemoration of the Faithful Departed
Monday 6th

7.00pm Bible Study (via Zoom)
Tuesday 7th
10.00am Holy Communion
Wednesday 8th
10.30am Coffee Morning in church
Saturday 11th
10.30am Acklam Old Boys Service
Sunday 12th REMEMBRANCE SUNDAY
9.00am Holy Communion (BCP)
10.00am Parish Communion
6.00pm Compline
Monday 13th
7.00pm Bible Study via Zoom
Tuesday 14th
10.00am Holy Communion
7.15pm Prayer meeting in church
Sunday 19th
9.00am Holy Communion
10.00am Parish Communion
6.30pm Evensong
Monday 20th
7.00pm Bible Study (via Zoom)
Tuesday 21st
10.00am Holy Communion
Sunday 26th CHRIST THE KING
9.00am Holy Communion
10.00am Parish Communion
6.30pm Evensong
Monday 27th
7.00pm Bible Study (via Zoom)
Tuesday 28th
10.00am Holy Communion
Sunday 3rd DECEMBER ADVENT SUNDAY
9.00am Holy Communion
10.00am Parish Communion
3.00pm CHRISTMAS CONCERT by VOX NE Choir
6.30pm Evensong
_______________________________________________________
SERVICE OF COMMEMORATION OF THE FAITHFUL DEPARTED
On Sunday 5th November at 3.00pm there will be a service with prayers, hymns and readings in remembrance of loved ones who have died.
The names of loved ones will be read and candles lit in their memory.
Also, a tree planted in the churchyard which will have a plaque in memory of all children and babies who have died in infancy, will be blessed by the Vicar.
__________________________________________________
MEMORIAL TREE
In preparation for the blessing of a memorial tree for children and babies who have died in infancy, a young Mountain Ash was obtained and planted in the churchyard, with due regard to the York Diocesan rules governing planting of trees ie not near buildings, walls, and gravestones.
Three hardy volunteers (Barry, Colin and Bob) spent a 'happy' hour digging a suitable hole big enough to take the tree. There was a lot more rubble than anticipated, which had to be removed.
Passers by enroute to the Tees Valley Hospital were somewhat perplexed on seeing what appeared to be 3 happy blokes digging a grave!!!
_____________________________________________________
CHRISTINGLE SERVICE
It has been a tradition at St Mary's for many years to hold a Christingle Service on Christmas Eve in aid of The Children's Society.
However, as last year, instead of it being on Christmas Eve, it will be held on Sunday 10th December at 3pm in the afternoon.
Christingle candle boxes/envelopes can be obtained at the door, and a donation for the Children's Society can then be inserted.
These can then be placed by the altar in exchange for a Christingle orange.
This is always a lovely service for children to explain the Christmas story, and sing well known Christmas carols.
We hope you will be able to come along and enjoy the start of the Christmas season.
_____________________________________________________










CHRISTMAS CONCERT
On Advent Sunday, 3rd December at 3.00pm, there will be a Christmas Concert in church given by Vox Choir North East
An afternoon of Christmas music to suit all tastes followed by coffee/tea and mince pies.
Tickets - £8.00 (under 12's free) can be purchased at the door (cash or card accepted)
____________________________________________________
For those who knew Henry at St Mary's his sister Barbara has kindly sent an abbreviated copy of the Eulogy from Henry's funeral so that you may know things about Henry you may not Have known. Ed.
Henry Warne 1.4.48 – 19.9.23
Henry was the youngest of 4 children, born at home in Cambridge Road on 1st April 1948. He was always at pains to point out that he was born at 4 o'clock in the afternoon so did not qualify as an April Fool. From the very start of his life he had problems. In his early life he had many tests and investigations to ascertain the cause of his problems whether it was physical or mental. At one point he was thought perhaps to be deaf and in those days the tests were quite primitive. At school he struggled particularly because of his speech, and his teacher spent a lot of time trying to teach him to read. However one day she contacted our mother to say she thought he could read already but it was not obvious because of his speech. He had many years of speech therapy.
From a very early age he liked to collect things and he had a magnificent collection of Dinky cars as a child. He enjoyed reading factual books and his favourite was The Children's Encyclopaedia. He was very knowledgeable. Later he collected Kinder egg toys, Rubik cubes, puzzles, books, coins, watches and clocks. He rarely threw anything away, leaflets, postcards, tax discs…and so it went on. Does anyone need a collection of The Highway code, he had 19 of them!
He went to Green Lane School where he passed the 11+ and went to Middlesbrough High School where he often came top in his class for maths and science, though as he got older his motor skills deteriorated and he struggled with writing legibly. He was determined to not give up and always had positive comments on his report for trying. One year he insisted that he wanted to take part in the school cross country run although the master thought it would be too much for him. He evidently finished last to rapturous applause, and the teacher called to his home that evening to congratulate him to his parents, who knew nothing about it. Henry had not mentioned it. He was determined to learn to ride a bike but had many minor falls and one Sunday morning he had decided to ride to church where he was a server, and fell off in St Mary's Walk but continued on his way with a grazed face and bleeding forehead to the consternation of Rev Bodycombe the vicar and the congregation.
He was clever, and after he left school he went to Manchester University to study Chemical Engineering, but found the student way of life difficult, so after the first year he transferred to Constantine College in Middlesbrough where he completed his degree in Chemical Engineering. He got a job at the Ever Ready Research Factory in Hornsey, London and he lived in the YMCA hostel there for several years until he was made redundant, but remained in London for a few more years. He sent off many job applications and stoically accepted hundreds of rejections. Around this time he was involved with a London Teaching hospital and was eventually diagnosed with Neurofibromatosis.
While in London he enjoyed the museum life and was involved in the British Museum from where he took part in many holidays and experiences. He loved to travel and visited Greece, Cyprus, Italy, Crete, Turkey, Warsaw, Prague and Egypt. He was always game to take part in the activities available and particularly enjoyed the pyramids and camel ride.
When in London he became a blood donor and was very proud of his award for 75 donations. He had a great sense of community. He wound the All Saints church clock where he worshipped down there, and volunteered at the nearby Childrens' hospital.
At some point he learned to drive, and when he left London after his mother died, he worked at Seal Sands Chemicals until once again he was made redundant. His driving was a little erratic and he had a few minor bumps. His principle of parking was stop when you hit it. All four of the car wings had kiss marks on them.
Henry moved into a flat in 2011, taking his cat Holly with him, though he was not really allowed to. He had a cat throughout his life and was always devoted to them. She was great company for him. He always signed off any correspondence Henry and Holly.
Henry lived very happily in the flat for a number of years, reading newspapers and books and spending many hours with the Guardian crossword, perusing catalogues, shopping daily, doing puzzles of all sorts, and going to the library and at his computer. He liked to record everything, he made spreadsheets of every penny he spent, every phone call he received (including the time and duration of call), every item of post including junk mail, every visitor and so on. He went to church every Sunday at 9am, to the social club weekly, where he especially enjoyed quizzes, and the church coffee mornings. He always took his cake box with him and filled it with bought cakes, and always bought raffle tickets, being delighted when he came home with a prize.
He enjoyed going into town, by car or bus, and it was following a fall in town that his health began to deteriorate. He had a short spell in hospital in 2020 and after he went home carers were organised to call in a couple of times a day and he managed very well, but was not confident to go out alone after that. Then earlier this year he fell again in the flat and was admitted to hospital, after which he had to go into St Mary's care home. He was very happy and settled there for a few months, but gradually got weaker as his chronic kidney disease caught up with him, and he died peacefully at James Cook Hospital on September 19th, 400 days after his brother Bruce died of the same thing.
Henry was a great one for routine—and possibly today he would have been classed as autistic. He always got up and had his meals rigidly at the same time. If he had a visitor and it got to 11.45 he would stand up and go to the kitchen to get a meal ready despite who was there. He could not watch anything on TV after 9pm because that was when he went to bed. He did not have a need for people and often did not recognise them, but would always respond if he was spoken to. He loved being with family and jumped at the opportunity to come to a birthday gathering. He was kind, gentle, polite, calm, and never lost his temper. Although he could be exasperating, he loved and was much loved, and he died as he lived, quietly and without a fuss.
___________________________________________
A New Kind of Remembrance Poppy
For the first time in 28 years, there is a new kind of poppy for Remembrance Sunday this year: it is plastic free.
Director of the Poppy Appeal, Andy Taylor-Whyte explains: "We are very proud to introduce the plastic-free poppy. It will not only enable people to support our Armed Forces community but also continues the RBL's commitment to sustainability."
The new poppy has been three years in the development and making. The aim was to reduce the use of single-use plastic and to "be economical, sustainable, and less impactful to the environment."
The new poppy design has a 40% smaller carbon footprint, and it made from "bespoke red and green paper." The paper comes from a blend of renewable fibres, 50 per cent of which has been recovered from the waste used in the production of coffee cups.
The plastic-free poppy will be available alongside remaining stocks of the current poppy, to reduce any waste of poppies already produced. Poppies containing single-use plastic can be returned to Sainsbury's stores for recycling.
_____________________________________________________
by David Pickup, a solicitor.
The Two Minutes Silence
Remember, Lord, Your great mercy and love, for they are from of old. Do not remember the sins of my youth and my rebellious ways; according to Your love remember me, for You, Lord, are good. (Psalm 25:5-7)
I love the Psalms, as they cover every emotion and religious experience, from despair to praise and from fear to rejoicing. Some say they are difficult, but life is difficult, and so the book of Psalms is great for dipping into and finding the right one for you. This one is about remembering – remembering the past failures in our lives, and dealing with them.
What do you think about during the Two Minutes' Silence on Remembrance Sunday? Perhaps you do not think about anything. I find it helpful to make an effort to think about the war dead. I used to do some research into local men who were casualties. I had some photos taken from newspapers or sent home. These memories added some personalities and characteristics to the names on memorials.
I also think of members of my own family, who lived through the wars, and the experiences they had. Most did not go off to serve away from home, but lived through the blackouts, blitz, and evacuation and rationing. My grandfather left a photo of some comrades and had written on the back a request to 'keep this safe'.
And so we have, for over one hundred years! I also remember, with thanks, the comparatively peaceful lives we have had.
There are some things we do not want to remember, usually bad things we have done or had done to us. When we turn our memories over to God, we are asking God to be merciful and loving, for although we make mistakes we can appeal to His enduring love.
______________________________________________________
Renowned composer 'thrilled' to write new Christmas
carol

for
Church of England
This Christmas, the Church of England is inviting choirs across churches, schools, and communities to 'join the song' alongside one of the country's leading choral composers.
The 'song' is a new interpretation of 'The First Nowell.' It has been given a brand-new melody by the well-known composer Bob Chilcott and is the centrepiece of this year's Church of England Christmas focus: Follow The Star: Join The Song.
The C of E theme for 2023 highlights how singing can help draw people closer to God and one another, through the journey from Advent to Epiphany.
Bob Chilcott's most often performed pieces include Can you hear me?, A Little Jazz Mass, and the St John Passion. His music has been recorded by The King's Singers, King's College Cambridge, The Sixteen, Tenebrae and The BBC Singers, among other choirs and groups.
"It's been an absolute thrill for me to be able to write new music for the well-known carol, 'The First Nowell,' and to be a part of the 'Follow the Star' campaign at Christmas 2023," Bob Chilcott said. "I have aimed to make this melody easy to pick up and I hope all will enjoy singing it, at a time of year when the joy of singing is so central to worship and to the celebration of Christmas."
The carol is published by Oxford University Press and features as part of OUP's new edition of the favourite series, Carols for Choirs 6.
The C of E is offering a wide variety of free resources available for churches, schools, and choirs.
Visit:
https://www.achurchnearyou.com/accounts/login/?next=/hub/asset/first-nowell-resources/
(New users will need to set up a free account, which is a very quick process).
____________________________________________________
3

rd

November: Richard Hooker – priest, apologist, teacher
Richard Hooker lived at a critical time for the Church of England. He became one of the most important English theologians of the 16th century.
He provided the Church of England with a theological method which combined the claims of revelation, reason, and tradition. Traditionally, he has been credited as the originator of the Anglican via media – the middle way between Protestantism and Catholicism
.
Hooker was born near Exeter around 1554, educated at Corpus Christi College Oxford, and was then made fellow there in 1577, and deputy professor of Hebrew in 1579. In 1581 he was ordained, and later appointed as Rector of Drayton Beauchamp.
In 1585 Hooker was appointed Master of the Temple Church in London, but returned to rural ministry six years later, first at Boscombe in Wiltshire, and then at Bishopsbourne in Kent, where he died in 1600.
The 1580s and 1590s were a time of bitter theological disputes between the Church of England, after the 1559 Elizabethan Settlement of the C of E, and the growing Puritan party within the Church.
Hooker was implacably against Puritanism, and set about refuting it, and defending the Church of England in his magisterial eight-volume book On the Laws of Ecclesiastical Polity
.
The book has been called "probably the first great work of philosophy and theology to be written in English." In it Hooker set out to demonstrate the superiority of episcopacy in the C of E, as opposed to bringing in the presbyterian system that the Puritans wanted.
Anglicanism, he said, was rooted in both Scripture and tradition, as suited a Church both Catholic and Reformed. And as human reason is a gift from God, he argued that this, too, was a vital element in interpreting both Scripture and tradition.
So, Richard Hooker was the first real apologist for Anglicanism. His contribution to Anglican thought was so huge that down the centuries he has won the backing of all wings of the Church: the evangelicals, Anglo-Catholics, and central churchmen.
________________________________________________
Appeal for victims of earthquake in Morocco
More than 3,000 people have been killed by Morocco's recent devastating earthquake. There have been dozens of aftershocks already since the 6.8 magnitude quake.
The Christian community in Morocco is small, but determined to help. Believers have rushed to donate blood to help the injured.
The Barnabas Fund's Christian project partners in Morocco want to take food, blankets, clothes and medicines to suffering people in the affected areas.
If you can help, please visit:
www.barnabasaid.org
________________________________________________________
God of the Mountains : God of the Valleys.
Where were you when I laid the earth's foundation? Tell me, if you understand. Who marked off its dimensions? Surely you know! Who stretched a measuring line across it? On what were its footings set, or who laid its cornerstone … The earth takes shape like clay under a seal; its features stand out like those of a garment… Have you journeyed to the springs of the sea or walked in the recesses of the deep? (Job 38:4–7, 14, 16)
These verses from the biblical book of Job focus on the Earth, from the top of the highest mountains to the deepest valleys of the sea floor. Job used to have a very comfortable life, but lost everything: health, children, and much of his property. He can see no obvious reason for this terrible turn of events, so he demands an answer from God, asking "What have I done to You…? Why have You made me your target?"
There is no direct reply to Job's question, but instead a long conversation with his friends who assume (wrongly) that he must be being punished for doing something very bad. When God finally speaks, He draws Job's attention to his surroundings. The sun, moon and stars, the immensity of land and sea, the creatures that inhabit them, and the processes that produce weather are a wonderful display of God's creative power. God is the origin and sustainer of all these things, and they are far beyond anything humankind could produce, fully understand or imagine – even today.
The things we do know about the processes described in Job can help us appreciate how marvellous they are. Mountains are produced by the movement of the Earth's rocky crust over great periods of time. Erosion by weathering or glaciers then grinds down those rocks to produce the mineral component of soil.
Considering the wider perspective of creation can help restore our sense of who we are, who God is, and where we fit into His purposes. God speaks to Job in the midst of his suffering, lifting his eyes to the power and creativity of his Maker. Only after this theology lesson are Job's practical needs addressed. What will life be like for us over the coming months? A constant check on our own thinking – reminding ourselves of the bigger picture of God's plans and purposes – might be just what we need to help us keep going.
This article drew very directly on the writing of Prof Bob White in
New Daylight (BRF, Sept-Dec 2020), and the input of a Bible study group based in Cambridge.
__________________________________________________
Canon Paul Hardingham considers our response to those who hate us.
How to Deal with Enemies
In the season of Remembrance, we consider those who have heroically given their lives in war. However, Jesus calls all of us to a radical heroism in our daily lives: 'You have heard that it was said, 'Love your neighbour and hate your enemy.' But I tell you: Love your enemies and pray for those who persecute you, that you may be children of your Father in heaven.' (Matt 5:43-45).
Love Your Enemies:
Our 'enemies' are rarely life-threatening; they can simply be impatient, judgmental, self–righteous or just plain disagreeable! Whether the conflict is with a family or church member, work colleague or neighbour, our attitude toward them should be one of love. We will naturally want to retaliate, but Jesus commands us to love!
Pray for Your Persecutors:
It's only when we are ready to pray for someone whom we find difficult, that God can soften our attitude towards them. Like us, they are those in need of God's forgiveness and grace. Dietrich Bonhoeffer, the German pastor executed by the Nazis at the end of World War 2, wrote:
'This is the supreme demand. Through the medium of prayer, we go to our enemy, stand by his side, and plead for him to God. For if we pray for them, we are taking their distress and poverty, their guilt and perdition upon ourselves and pleading to God for them.'
Become More Like Jesus:
When we start loving our enemies and praying for our persecutors, we become more like Jesus Himself. He willingly laid down His life for us, prayed for His persecutors and gives us the power to love our enemies as He did.
At a time when we recognise that we all need heroes; how will we respond to this call to radical heroism in our own life?
_______________________________________________________
A good soldier
Join with me in suffering, like a good soldier of Christ Jesus. No one serving as a soldier gets entangled in civilian affairs, but rather tries to please his commanding officer. (2 Timothy 2:3,4)
I went to Israel last year and one of the things you notice straightaway is there are young people everywhere in military uniform. We do not live in a society where you often see service people. When the police service was formed in Britain in the 19th century, it was established as a civilian force, not a branch of the armed services. And personally, I always feel uneasy when I see police officers armed with guns, even though I know they are there to protect me.
Of course, in New Testament times it would be commonplace to see soldiers. John the Baptist preached to them and told them to be fair, and not to take advantage of the public. Some service people supported synagogues and even became followers of Jesus. Jesus had a good encounter with a Centurion.
St Paul also would have been familiar with the military. There was often public disorder which the troops dealt with, and of course he himself was under house arrest and in prison. While in prison, he prayed for the prison guards.
St Paul even used soldiers as an example to the early Christians – encouraging them to be good soldiers of Jesus Christ: obedient, willing to serve, disciplined and trained.
This month let's remember to pray for our police and our soldiers. They have devoted their lives to doing a very difficult job, in often challenging circumstances. Let's do all we can to support their efforts to protect citizens from harm, and to keep the peace.
_________________________________________________




Be a stained-glass window
People are like stained glass windows. We glow and sparkle when it is sunny and bright outside. But it is only when the sun goes down that our true beauty is revealed – and then only if there is a light deep within us – the light of God.
____________________________________________________________
Cathedrals in the UK
Since 2000 the Church of England (C of E) has been collecting and publishing details about its Cathedrals. The attendance figures are vivid reminders of the effects of Covid-19.
In the seven years from 2013 to 2019, the average total annual regular attendance in the C of E Cathedrals was 511,000 people. Three years later, in 2021, it was exactly half that, at 255,000
.
This excludes the many special services held such as for schools, Diocesan services, graduation services or others, which totalled over two million people in 2019, though halving again in 2021
.
Christmas attendance in 2019 was 670,000 and 270,000 in 2021. Most Cathedrals also offer on-line services, and these have continued since the cessation of lockdown restrictions.
Church of England Cathedrals had some 9.7 million visitors in 2019. In 2021 it was 4.6 million.
There is some apprehension about whether numbers will have returned when the 2022 figures are known.
______________________________________________________________
November Crossword
CLUES
Across
1 'When he had given — , he broke it' (1 Corinthians 11) (6)
4 'And his — over me is love' (Song of Songs 2) (6)
8 Surrey town that hosts the National Christian Resources Exhibition (5)
9 Also known as Abednego (Daniel 1) (7)
10 Liken (Isaiah 40) (7)
11 A son of Etam, descendant of Judah (1 Chronicles 4) (5)
12 Where the blood of a young bull was to be smeared (Ezekiel 45) (9)
17 'They make many promises, take false — and make agreements' (Hosea 10) (5)
19 Roman province to which Paul returned (Acts 16) (7)
21 Material used to make baby Moses' basket (Exodus 2) (7)
22 'And feeble as — , in thee do we trust, nor find thee to fail' (5)
23 'The sheep — to his voice' (John10) (6)
24 Stalk carrying the sponge of wine vinegar (John 19) (6)
Down
1 Elijah dug one round the altar (1 Kings 18) (6)
2 'I am not — of the gospel,' (Romans 1) (7)
3 Buddhist term relating to belief in reincarnation (5)
5 Damascus disciple who restored the sight of the blinded Saul of Tarsus (Acts 9) (7)
6 and 16 Horses: their sound (Jeremiah 50) (5) and their gait (Joel 2) (6)
7 A three (anag.) (6)
9 Athenian council addressed memorably by Paul (Acts 17) (9)
13 Abide by (Galatians 3) (7)
14 Persian princes (Daniel 3) (7)
15 Force (Galatians 6) (6)
16 See 6 Down (6)
18 Paste (anag.) (5)
20 How the cedars of Lebanon are described (Isaiah 2) (5)
Answers to October Crossword
ACROSS: 1, Deacon. 4, Appear. 7, Wits. 8, Heavenly. 9, Argument. 13, Mob. 16, Broken-hearted. 17, Ran. 19, Suddenly. 24, Obstacle. 25, John. 26, Enable. 27, Market.
DOWN: 1, Dawn. 2, Afternoon. 3, Nehum. 4, Again. 5, Prey. 6, All to. 10, Users. 11, Ephod. 12, Trace. 13, Metalwork. 14, Body. 15, Eber. 18, Alban. 20, Uncle. 21, Dream. 22, Stab. 23, Gnat.
Winners:- Peter Warren
___________________________________________________
November Anagrams
ICE CREAM FLAVOURS
Rearrange these letters to form the names of 10 flavours of ice cream. Answers may consist of one, two or three words.
1. HOT POLICE CACH 2. BRYER WARTS 3. MEAL CAR 4. ISIO PATCH 5. A POLITE NAN 6. LIBRARY PREPPERS
7. TORCH TUB SECT 8. YER RUBBLE 9. CAPTERN TUBE 10. RUIN MA DRAINS
Winners Wyn Hirst
_____________________________________________
October Anagram Answers
GEMSTONES:
1. TOPAZ 2. DIAMOND 3. EMERALD 4. MOONSTONE 5. AMETHYST 6. GARNET 7. AQUAMARINE
8. SAPPHIRE 9. BLOODSTONE 10. ALEXANDRITE
___________________________________________________
Winners Jack Thompson
____________________________________________________
Canon Paul Hardingham continues to his year-long series on the Spiritual Disciplines.
Spiritual Disciplines: Generosity
'It is more blessed to give than to receive' (Acts 20:35).
What does generosity look like for us? The practice of generosity is about more than finance, as we recognise that everything we possess belongs to God (Ps 24:1). We are stewards of all our resources, including time, possessions, gifts, as well as our love and compassion for others. God enables us to be generous, because of all that He has given us:
'You will be enriched in every way so that you can be generous on every occasion, and through us your generosity will result in thanksgiving to God.' (2 Cor 9:11).
Here are some practical ways of practising generosity:
Give consistently: Planning our financial giving ensures that it isn't an afterthought, but carefully considered (2 Cor 9:7). We can offer time to volunteer in church or in the wider community. We might open our home to others for a meal or coffee.
Give spontaneously: God often brings opportunities across our path where we can respond spontaneously. This might be prompted by a text from a friend in crisis or giving a neighbour a helping hand. Acting spontaneously reminds us that God is always working in and through us
.
Give sacrificially: Being generous also involves making sacrifices with our time and priorities, as we help others, share our possessions, or use our gifts. How can we simplify our busy lives, in order to free up space to practise more life transforming generosity?
To engage in generosity is an invitation to experience more of God's provision in our lives:
'Give, and it will be given to you. A good measure, pressed down, shaken together and running over, will be poured into your lap. For with the measure you use, it will be measured to you' (Luke 6:38).
__________________________________________________
Why go to church?
A church-goer complained to his minister: "I've been coming to church every Sunday for 30 years, and in that time I have heard thousands of sermons, but for the life of me, I can't think of a single one now. So, I think I have wasted my time."
The minister thought for a moment and replied: "I've been married for 30 years, and my wife and I have cooked thousands of meals. For the life of me I can't recall the entire menu of a single one of those meals now. But I do know that each one nourished us and gave us strength to carry on living. If we had not had those meals, but snacked on rubbish instead, we would have been stunted and eventually starved. Without regular Christian nourishment, we also will starve – spiritually."
____________________________________________________
by the Ven John Barton
Looking back on the 2023 cricket season
The 2023 cricket season ended on a jarring note. A widespread review of the game in England found it suffered from racism, sexism, elitism and class-based discrimination.
Older cricket fans will wince. They recall the days when each county side was divided into amateurs and professionals, called Gentlemen and Players. They had separate changing rooms. Gentlemen came from wealthy families, so didn't need the wages paid to the others. You could distinguish them on cricket scorecards, where Gentlemen's names were printed with their initials in front of their surnames, whereas Players' names were the other way round. The team captain was always an amateur.
For centuries, women have played cricket, using a smaller ball, but it wasn't until 1976 that they were allowed to play at Lords, where schoolboys from Eton and Harrow had played for years. Twenty five years later, Ebony Rainford-Brent became the first black woman to play for her country, and was subject to racist abuse. "As soon as I walked into the world of cricket the comments started", she said.
In the early days, a few Indian cricketers who were members of noble families, played for English counties and even for the national team. But by and large the game in England was played by white people. Class distinction was accepted without question. In church, they were still singing,
The rich man in his castle,

The poor man at his gate;
God made them, high or lowly
And ordered their estate.
Although the Bible acknowledges distinctions between rich and poor, employers and workers, kings and their subjects, it gives priority to the poor and powerless, and places grave responsibility on those who are wealthy and wield power. No reference is made to their skin colour. Adam and Eve are presented as non-ethnic and non-national because they represent all people of all ethnicities.
One outstanding cricketer, who lived by these biblical themes, was David Sheppard. He captained England, both before and after he was ordained in the Church of England. He chose to minister only in the most downtrodden areas, wrote Bias to the Poor as part of his campaign for social justice and refused to play against South Africa when their team was controlled by apartheid. All sports need players of principle like him.
____________________________________________________


The Story Behind the Hymn: O God our Help in Ages Past
O God, our Help in ages past, our Hope for years to come,

our Shelter from the stormy blast, and our eternal Home.
Source: Psalms & Hymns to the Living God
O God our Help in Ages Past is considered one of the grandest hymns in the English hymnody. It is sung at the annual Remembrance Sunday Service at the Cenotaph in London, and it was also sung at the funeral of former prime minister Winston Churchill in St Paul's Cathedral.
The hymn was written by Isaac Watts in 1719, as a paraphrase of Psalm 90. It is a psalm of Moses, and carries a strong message of hope and faith in God's loving care.
Isaac Watts was born in Southampton in 1674, the eldest of nine children. His father, an educated deacon in a dissenting Congregational church, was in prison for his non-conformist beliefs at the time of Isaac's birth.
Watts had an outstanding aptitude for language. By the time he was 13 he had learned Latin, Greek, French, and Hebrew. He had also begun to write in verse, even speaking in rhyme in ordinary conversation – much to the irritation of some of his family!
By the time Isaac was 18, he had a particular bugbear – the deplorable state of congregational singing. It was mostly metrical psalms, which were heavy going and ponderous. But many non-conformists thought that if congregations sang anything other than the actual words of Scripture, it would be an insult to God.
Isaac was complaining about this one Sunday when his father suddenly challenged him: 'Why don't you give us something better to sing, then?"
Isaac accepted the challenge. The next Sunday he produced his first hymn, and the congregation loved it. Isaac then wrote new hymn texts for his church – every Sunday for the next two years. By 1719, Watts had published a hymnal: The Psalms of David in the Language of the New Testament. He had paraphrased nearly the entire Psalter.
In all, Watts wrote more than 600 hymns. Other favourites include: When I Survey the Wondrous Cross, I Sing the Mighty Power of God, and the famous Christmas carol Joy to the World.
At the time, some people felt Watts's hymns were "too worldly" as they were not based solely on the Psalms. Yet Watts argued that the Christian church should sing of Christ. He explained his approach this way:
"Where the Psalmist describes religion by the fear of God, I have often joined faith and love to it. Where he speaks of the pardon of sin through the mercies of God, I rather choose to mention the sacrifice of Christ, the Lamb of God. Where He promises abundance of wealth, honour, and long life, I have changed some of these typical blessings for grace, glory and life eternal, which are brought to light by the gospel, and promised in the New Testament."
Watts died in 1748, having been a much-loved hymn-writer, scholar, pastor and preacher.
__________________________________________________
Why keeping a stiff upper lip may not be such a bad idea after all
What do you do with your negative feelings and experiences?
Burying them and 'carrying on' has long gone out of fashion. Nowadays we are encouraged to express our fears and traumas, get them into the open, and not let them 'fester' in our subconscious.
But now researchers at the University of Cambridge have found evidence that talking about our traumas and problems might not be doing all that much good. It might be better to simply move on with our lives.
As one doctor said: "We're all familiar with the Freudian idea that if we suppress our feelings or thoughts, then these thoughts remain in our unconscious, influencing our behaviour and well-being perniciously. The whole point of psychotherapy is to dredge up these thoughts so one can deal with them and rob them of their power."
But according to the findings, it seems that suppressing negative thoughts might actually improve our mental health, among those of us who have post-traumatic stress disorder (PTSD).
As one psychologist explained: "What we found runs counter to the accepted narrative. This study challenges a widely accepted consensus in the therapeutic community that suppressing negative thoughts is harmful."
It may be that the reality is more nuanced, and that suppression of negative experiences "does not always lead to negative outcomes."
The study was published in Science Advances.
The Bible encourages us to acknowledge the pain of our bad experiences, but then to take them to God in prayer. He does not want us to bear the bad memories on our own, but instead He can heal us. 'Cast all your anxiety on Him because He cares for you.' (1 Peter 5:7)
____________________________________________________________
Concern over the provision of RE in schools
A group of cross-party peers, MPs and religious educators has criticised the lack of funding for the teaching of religious education (RE). It has called on the Government to address the crisis in teaching and recruitment.
There were 30 signatories to a letter to the Secretary of State for Education, Gillian Keegan. They described the current provision of RE as a 'postcode lottery', in which some children receive a well-taught religious education, while others receive "either 'tokenist' RE, or none at all."
The letter went on to point out that half (51 per cent) of the RE lessons in secondary schools are currently being taught by non-specialist teachers. Pupils are now three times more likely to be taught RE by someone with no qualifications at all in the subject. And RE is on track to recruit only 44 per cent of its target by the end of the current recruitment year.
The group is concerned that students who do not receive good RE education "are consequently ill prepared to play their part in our complex religious and non-religious society, with all the opportunities created by its diversity."
__________________________________________________
The Ven John Barton considers the power of advertising.
Re-Enchantment
If you have a craving for feelings of awe and wonder, you are not alone. When the huge American advertising agency, Wunderman Thomson surveyed 3,000 adults in the UK, USA and China, they found 75% said they 'just want to feel something, to feel alive'.
So, they wrote a report for the benefit of their commercial clients, who include Heinz, Burger King, HSBC, KitKat and scores of other well-known brands. Its language has extraordinarily religious overtones.
Called 'The Age of Re-Enchantment', the report suggests that people would be prepared to buy products which sought to engage them emotionally, to inject joy and, in an uncertain world, to connect them to their communities. People are feeling jaded and disconnected; they yearn for emotional experiences and are open to brands which offer to deliver them.
That's why erotic advertisements for perfume are designed to persuade the prospective purchaser that a romantic experience can be sprayed from an atomiser, though it sounds ridiculous when analysed so bluntly. When social medium Twitter became 'X', it was claimed it would transform the global town square – a combination of something recognisably local and community-based, but with universal reach and utilising hi-tech.
We may like to think we are in control of what we buy and are unaffected by advertisements. That probably proves how effective they are, subconsciously or subliminally. £39.4 billion was spent annually on UK advertising at the last count. In one way or another, advertisements prompt us to imagine a better world.
Compare all that with a friend who said becoming a Christian felt like experiencing proper daylight for the first time. Until then he had been living under a large rock in half light. The world now looked different, more colourful, and full of opportunity. You can understand why people like him claim to be born again.
Lots of stories like that are in the books of the New Testament. No TV advertising, no internet. But the word passed from mouth to mouth about a travelling preacher called Jesus, who brought awe and joy into jaded lives. And – it's free. Can you believe it?
_______________________________________________
Silent prayer is not a crime
The Home Secretary, Suella Braverman, has recently written to every police force in the country to say that silent prayer near abortion facilities is not a crime.
In the letter she writes that "silent prayer, within itself, is not unlawful." And that "holding lawful opinions, even if those opinions may offend others, is not a criminal offence."
_______________________________________________
Ukraine needs the support of 'Christian solidarity'
The Primate of the Greek Catholic Church in Ukraine, Major Archbishop Svetoslav Shevchuk, has said that: "Ukraine will not be able to withstand this war without broad international help. Universal Catholic and Christian solidarity is a necessary condition for the stability and survival of our Church and people – a condition for Ukraine's victory in a war of good against evil."
________________________________________________




Happy Birthday, King Charles!
King Charles was born 75 years ago this month, on 14th November 1948, at Buckingham Palace in London. He was the longest-serving monarch-in-waiting in British history and did not ascend the throne until he was 73, following the death of his mother in September 2022.
Charles was crowned in the first coronation in seven decades, on 6th May 2023. His current title is King of the United Kingdom of Great Britain and Northern Ireland.
But King Charles has also become head of the Commonwealth, an association of 56 independent countries and 2.5 billion people. For 14 of these countries, as well as the UK, the King is head of state. These countries are known as the Commonwealth realms. They are Australia, Antigua and Barbuda, the Bahamas, Belize, Canada, Grenada, Jamaica, New Zealand, Papua New Guinea, St Christopher and Nevis, St Lucia, St Vincent and the Grenadines, Solomon Islands, and Tuvalu
__________________________________________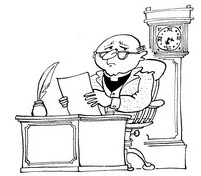 The Rectory

St James the Least of All
My dear Nephew Darren
I hear you have joined the committee which wants to convert the waste land between the abandoned soap factory and canal in your parish into allotments – although I would have thought there were holier sorts of conversions you could have concentrated on. I am sure you will soon be caught up in arguments which make that little disagreement over an apple in the Garden of Eden seem quite trivial.
Some years ago, we similarly decided to let part of our Glebe land become allotments; the outcome was not wholly as may have been anticipated. Colonel Wainwright saw it as an opportunity of re-living his War years and was only just restrained from digging trenches around his plot; no doubt he would have offered to play football with neighbouring allotment holders on Christmas Day.
It caused some surprise when the Earl of Stowe applied for a plot, but it has become something of an attraction to see his daily procession, preceded by his gardener pushing the wheelbarrow, the under-gardener carrying the tools and following him, his butler with the newspaper, a deckchair, and a flask of coffee. He then settles down for a comfortable hour while occasionally supervising the work, once reports on the local hunt have been read.
Miss Simpson managed to unite everyone in communal outrage by using her plot to encourage fluffy bunnies, darling foxes, and sweet squirrels. She seemed to be particularly grateful to everyone else for providing fruit and vegetables for their happiness. Resolution was only achieved when she was convinced to grow potatoes, helping the Colonel in his War Effort. Fortunately, he did not ask her to arrive equipped with the regulation gas mask.
Our local architect seems to spend most of his time beautifying his garden shed, rather than growing produce. With its gothic arched windows, Norman tower and flying buttresses, I do wonder if he may have spent rather too much of his time renovating ancient churches. Neighbouring plot-holders look forward to the agricultural equivalent of the Dissolution of the Monasteries.
I am sure you will find you have committed yourself to many hours of unnecessary work. Just make sure you get a percentage of their produce for your Harvest Festival.
Your loving uncle, Eustace
_________________________________________________
Remembering the National Service – 60 years on
This year marks 60 years since the end of National Service. The Royal British Legion and the nation will be celebrating all that a generation of young men did for this country during those years, when conscription became just a part of growing up.
National Service drew in a staggering number of young men – more than two million of them were conscripted between the end of the Second World War and May 1963, when the last serviceman was demobbed
.
Conscription had come about following the war, when there was a huge demand for military resources in Britain. Young service men were badly needed to retain the Empire, and to contribute to the occupation of Germany and Japan. Yet low birth rates in Britain in the 1930s meant there were fewer young men available for military service.
And so. the 1947 National Service Act was brought in as a solution. It meant that young men aged 18 – 26 were required to serve in the Armed Forces for 18 months. They were sent to posts in the UK and to British garrisons around the world. Some fought on the front lines, and some worked as clerks. Some taught in the Education Corps, and some were on sentry duty.
For many of them, it would have been the first time they lived away from their family, let alone left the country. So. the National Service made great demands on them – and left them with a wide range of experiences.
___________________________________________________
What traits do we value in our children?
Recent research has found that 'independence' has overtaken 'obedience' in what we want from our children, but that having good manners is still seen as very important.
The Policy Institute at King's College London (KCL) found that parents value independence, good manners, hard work, determination, and perseverance in their children.
They also prioritise imagination, tolerance, and respect for others. But compared to earlier surveys, parents find it less important to teach a child to be unselfish.
Prof Bobby Duffy, director of the Policy Institute at KCL, said: "The qualities we'd like to see instilled in our children are important signals of what we value as a society – and the very clear message from these long-term trends is the increased importance of imagination and decline in how much we prize straightforward obedience.
"This doesn't mean we want a society of self-centred children, but there is a more general shift towards valuing self-expression, while still wanting our children to be positive and productive contributors to society."
_____________________________________________________
C S Lewis – remembering the creator of the Chronicles of Narnia
It was 60 years ago this month, on 22nd November, that the famous writer C S Lewis died. This Irish-born British academic, novelist and literary critic is best known for his novels on The Chronicles of Narnia, and his books on Christian apologetics.
Clive Staples Lewis was born in Belfast November 1898. He arrived in Oxford in 1917 as a student and stayed on as a fellow and tutor at Magdalen College for 29 years. In 1954 he moved to Cambridge University's Magdalene College, until his death in 1963.
C S Lewis's books include The Chronicles of Narnia, The Screwtape Letters, the Space Trilogy, Mere Christianity, Miracles, and the Problem of Pain.
Lewis was a close friend of JRR Tolkien, who also taught at Oxford. They were both active in the informal Oxford literary group known at The Inklings. Lewis had been baptised in the Church of Ireland, but then had abandoned his faith as a young man. He was converted to Christianity and became an Anglican at the age of 32, influenced by Tolkien and others. Lewis' faith had a profound effect on his work and writings, and his wartime radio broadcasts on Christianity made him famous.
In all, Lewis wrote more than 30 books, which have sold millions of copies. His Chronicles of Narnia was televised and filmed, and his Christian apologetical writings are still widely used today.
In 1956 Lewis married American writer, Joy Davidman, who died of cancer four years later, aged only 45. Lewis died on 22nd November 1963 from kidney failure. In 2013, on the 50th anniversary of his death, Lewis was honoured with a memorial in Poets' Corner, in Westminster Abbey.
________________________________________________________
The best time to exercise, if you want to lose weight
The two-hour window between 7am and 9am is the best time to go running or 'work out', if you want to lose weight.
A recent study by scientists at Franklin Pierce University has found that early morning exercise can help you lose weight more easily, reduce your BMI, and slim down your waist. It is thought that the 'fasted state' after you wake up could be the reason for this weight loss edge.
As one assistant professor of exercise physiology explains: "Exercise can burn fat and glucose," Dr Ma said. "After an overnight fast, the glucose stored in our body is low. Therefore, when we exercise our muscles are likely to burn more fat." He recommends 40 minutes of aerobic exercise before breakfast, such as running or biking.
The findings have been published in Obesity, The Obesity Society's (TOS) journal.
_________________________________________________
All in the month of November
It was:
100 years ago: on 8th Nov 1923 that Christian Barnard, South African cardiac surgeon was born. He carried out the first successful human heart transplant in 1967. (Died 2001.)
Also 100 years ago, on 11th Nov 1923 that the eternal flame at the Tomb of the Unknown Soldier under the Arc de Triomphe in Paris was lit. It was the first modern-day eternal flame in Europe.
80 years ago, from 28th Nov to 1st Dec 1943 that the Tehran Conference in Iran was held. US President Franklin D Roosevelt, British Prime minister Winston Churchill and Soviet Leader Joseph Stalin met to discuss plans for a second front against Nazi Germany. This led to the D-Day assault on Normandy and the Allied invasion of occupied Europe, starting in June 1944.
75 years ago, on 4th Nov 1948 that American-born British poet and playwright T S Eliot won the 1948 Nobel Prize in Literature.
Also 75 years ago, on 14th Nov 1948 that Charles, King of England, was born.
60 years ago, on 22nd Nov 1963 that US President John F Kennedy was assassinated in Dallas by suspected gunman Lee Harvey Oswald.
Also 60 years ago, on 22nd Nov 1963 that CS Lewis, Irish-born British novelist, literary critic and academic, died. Best known for this book on Christian apologetics, and the Chronicles of Narnia.
Also 60 years ago, on 23rd Nov 1963 that the first episode of the science fiction television series Doctor Who was broadcast in the UK. It is the longest-running and most successful science fiction TV series in the world.
50 years ago, on 13th Nov 1973 that Britain declared a state of emergency as a strike by coal miners caused supplies to dwindle. A 3-Day Week was introduced to conserve supplies.
40 years ago, on 14th Nov 1983 that British Defence Secretary Michael Heseltine announced that the first American Cruise missiles had arrived at Greenham Common airbase.
30 years ago, on 1st Nov 1993 that the Maastricht Treaty came into effect, establishing the European Union. (EU).
20 years ago, on 22nd Nov 2003 that England won the Rugby World Cup for the first time.
15 years ago, on 14th – 15th Nov 2008 that the first G20 Summit was held in Washington DC. It was established as a result of the 2008 financial crisis.
______________________________________________
Died in the services
Little Alex was staring up at the large brass plaque that hung on the side wall of the church. The plaque was covered with names, and it seemed to fascinate the seven-year-old. "All those names," he said to the minister. "Who are they?"
"Well, they were people who used to go to this church," explained the minister. "This is a memorial to all the young men and women who died in the services."
Soberly, they stood together, staring at the large plaque. Little Alex's voice was barely audible when he asked, "Which service, the 9 o'clock, or the 11 o'clock?"
**
Cheese
Ban sliced cheese. Make Britain grate again.
**
Scare it
A man had the courage – but not always the skills – to tackle any home-repair project. For example, his garage was littered with the pieces of a lawn mower he had tried to fix. One day his wife found him in the living room, attacking the vacuum cleaner with a screwdriver. "I can't get this thing to cooperate!" he exclaimed.
His wife replied, "Why don't you just drag it out to the garage and show it what happened to the lawn mower?"
**
Answered prayer
During the minister's prayer one Sunday, there was a loud whistle from one of the back pews. Tommy's mother was horrified. She pinched him into silence and, after church, asked, "Tommy, whatever made you do such a thing?" Tommy answered soberly, "I asked God to teach me to whistle, and He did!"
**
Clocks
It is told of the great preacher C H Spurgeon that after preaching at length one Sunday he said: "I don't mind people looking at their watches, but I do dislike to see them holding them to their ears, to see if they are still going."
**
Notice on a church in Cheshire:
'This is the House of God, this is the gate of Heaven.'
(This door is locked in winter months.)
**
Drops
Notice on an order of service: The service will close with 'Little Drops of Water'. Mr Brown will start quietly, and the rest of the congregation will then join in.
**
Well, you asked…
The preacher in the Dome in Brighton had given out his text: 'Paul we know and Apollos we know, but who are these?' The stewards were just showing in two late-comers, and one called out: "They are two businessmen staying at the Queen's Hotel."
**
Light
A small boy was fascinated by the red Sanctuary lamp during a rather long sermon. Finally, he whispered: 'Mum, when the light changes to green, can we go?'